APRIL SPECIAL: The Route 121 Fried Chicken Sandwich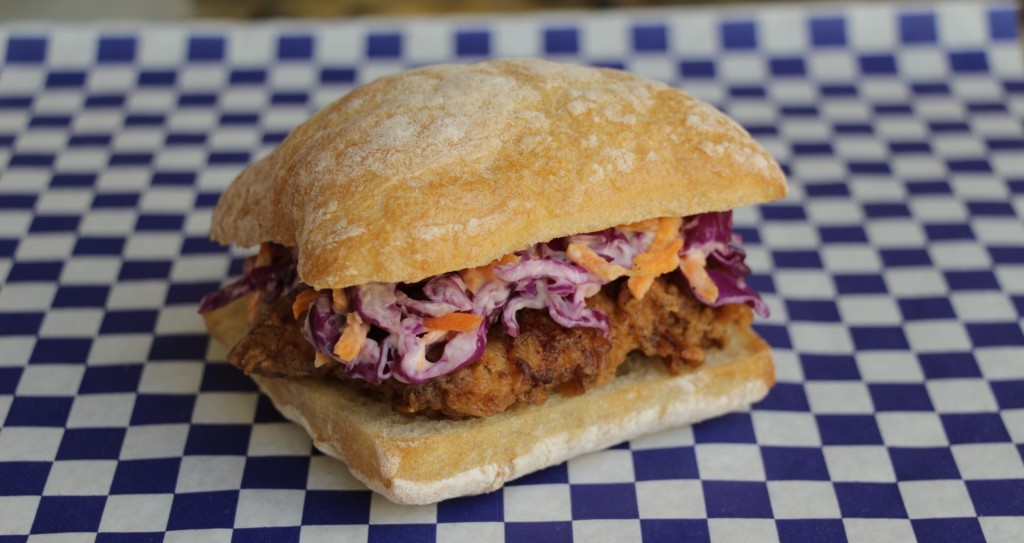 We always knew we'd have a Drums & Crumbs signature fried chicken sandwich, but for months we've anguished about what to put on it. We wanted something that complemented our secret spice blend and still added something new to the experience. It was also important to find the perfect bun: not too touch, not too bready.
The bun part was easily solved when we tried a fresh baked ciabatta roll from Bordenave's Bakery in San Rafael. It is soft and airy but chewy enough to hold up one of Arthur's boneless fried chicken breasts.
For the toppings, we wanted something cool and refreshing. Every week we made a different coleslaw, trying out different spices and vegetables and even hot sauces. The problem was that the spice blend we use for our chicken is pretty much perfect, and it was hard for another spice or pepper flavor to shine through. Then Rachel decided to make some of her mom's simple coleslaw: cabbage, pickles, mayo. It was the perfect touch. We jazzed it up a bit by using red cabbage and pickled our own shredded heirloom carrots, and the Route 121 Fried Chicken Sandwich was born — named after the beautiful state highway that winds its way through California winecountry.
Come by the cafe and try it for yourself!
---
Categorised as: New On The Menu
---