Rachel's Recipes: Pecan Coffee Cake
Each month, we will share with you one of our favorite recipes so that you can enjoy a bit of Drums & Crumbs right at home. This month, we bring you our Pecan Coffee Cake, which is available all month at the cafe. Try if for yourself and let us know what you think!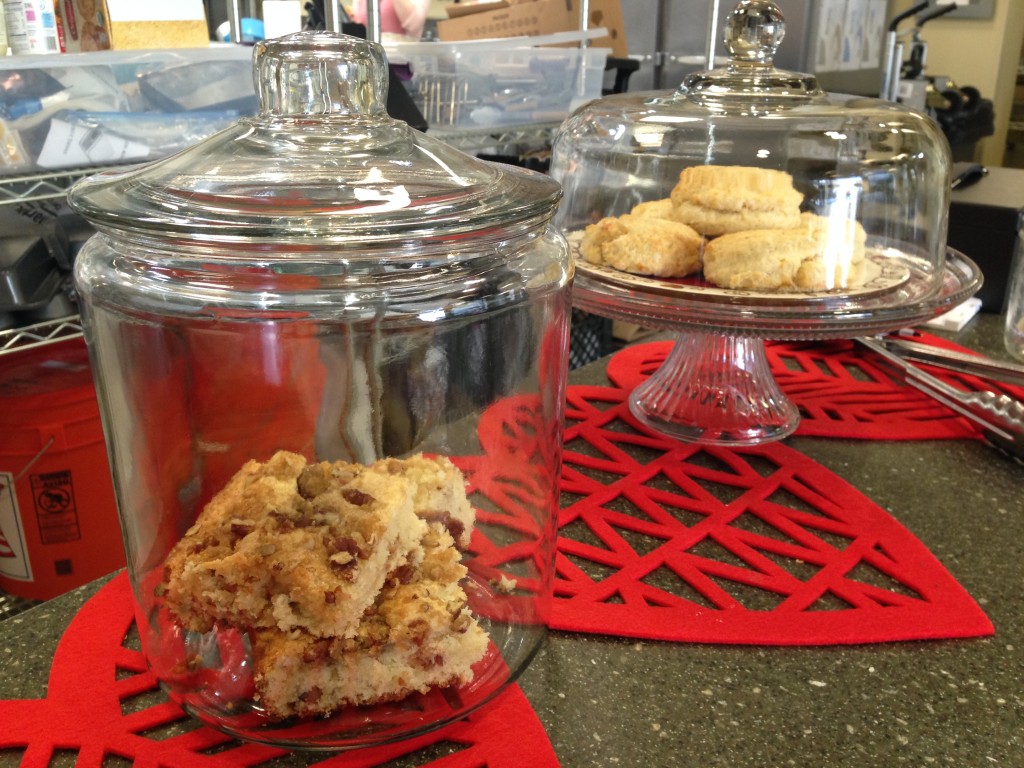 What To Get:

For Cake

: 2 cups all-purpose flour 1/4 teaspoon salt 1 tablespoon baking powder 1 cup butter, softened 1 cup sour cream 1 1/2 cups white sugar 2 eggs 1 teaspoon vanilla extract  

For Pecan Crumb Topping

: 3/4 cup brown sugar 2 tablespoons all-purpose flour 2 teaspoons ground cinnamon 3 tablespoons cold butter, cubed (keep in the fridge until you need it) 1 1/2 cups chopped pecans

What To Do:

Preheat oven to 350 degrees F (175 degrees C). Line a 9×13 inch pan with parchment if you have it, and lightly coat with butter. If you don't have parchment paper, just butter the pan. It'll be ok.

Sift together the dry cake ingredients: flour, baking powder, and salt. Set aside.

In a large bowl, cream the butter and sugar until light and fluffy. Mix in sour cream. Beat in the eggs one at a time. Stir in the vanilla. By HAND, gently fold in the flour mixture, mixing just until incorporated. Set aside.

In a medium bowl, mix together brown sugar,flour and cinnamon. Add cold butter cubes. Using a fork (or a pastry blender if you are fancy), work the butter into the dry ingredients until you have evenly distributed, coarse crumbs. Stir in pecans.

Pour half of the batter into the prepared pan, using a spoon to spread it into an even layer if necessary. Sprinkle roughly a third of the pecan crumb mixture over the batter. Pour the rest of the batter on top, again carefully spreading it with a spoon if necessary.

Bake in the preheated oven for 10 minutes. After the top sets just a little bit, sprinkle the rest of the pecan crumb mixture on top. Make sure you don't neglect the edges and the corners!

Return to the oven and bake for 30-45 minutes more. You'll know it is done when a toothpick inserted into the center of the coffee cake comes out clean. It will also smell amazing. Let cool in in the pan. Serve out of the pan. If you don't want your guests to see your ugly pan, let cool, slice, and stack your slices on a pretty platter.
---
Categorised as: Rachel's Recipes
---